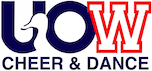 UOW Cheer and Dance
Welcome to UOW Cheer and Dance
Welcome to UOW Cheer and Dance!
UOW Cheer and Dance (UOWCAD) is a university club striving to share our love for cheer and dance. We welcome athletes of all skill levels and experience and train throughout the year with the goal of competing in various competitions during the season.
We offer a range of teams, including university and all-star division cheer teams, and dance teams in the Lyrical, Jazz, Pom and Hiphop styles.
Whilst we do hold team placements early in the year to find which team is best suited for you, we guarantee that all athletes will be placed in a team no matter your skill level or experience.
We hope to see you at our Open Gyms that we will be holding in February 2024!
Club Executives:
President: Kirra Phillips
Vice-President: Isabel Bowmer
Secretary: Mackenzie Astorga
Treasurer: Shayliegh Chambers
Competitions Officer: Hayley Slarke
Events Officer: Madeline Hamson
Funding Officer: VACANT
Promotions Officer: Nieva Willis
Uniform and Merchandise Officer: Alex Newman
Welfare Officer: Erica Abrahams
Follow us on our socials:
Facebook: UOW Cheer and Dance
Instagram: @uowcheeranddance
TikTok: @uowcheeranddance