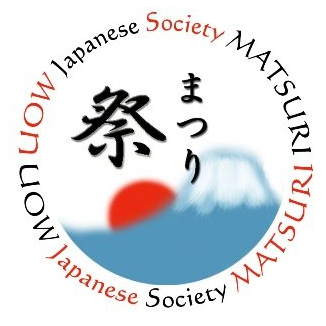 Japanese Society (Matsuri)

Looking for something different? Miss your home? Interested in Japanese culture and its way of life? Want to have some help in the language? Want to learn something outside the classroom? Want to have fun and meet new friends? …………
UoW Matsuri – Japanese Society is a club at the University of Wollongong. This club is to connect and network with Japanese students and students interested in Japan, its culture, language and way of life.
Executive Details: Tatsuya Kodera, Shuya Kamo, Aoi Yuki
Contact Email: uow.matsuri@gmail.com 
We will have many events catered to our members such as:
*Conversation groups aimed to learn and improve your language ability as well as things that you would not normally learn in the class room
*Culture workshops
*Social events
*Experience and skills development
~~~~~~~~~~~*
UoW Matsuri's Aims & Objectives:
• To promote the Japanese culture to the wider university community
• To bring together Japanese students and interested students in Japan's culture, people, way of life or Japan in general through activities, events and workshops
• To assist and provide a support network to present and future students
~~~~~~~~~~~*
To become a member, it is only a $5 fee for this semester
For this, you will:
• Have fun at the functions held by UoW Matsuri –Japanese Society
• Have access to the various workshops and classes aimed to introduce and further the interests of our members
• Meet a bunch of like minded people sharing the same interests as you and to keep for friends for a lifetime
Be a part of this growing society. Discover Japan and the many intricacies of this amazing culture!!