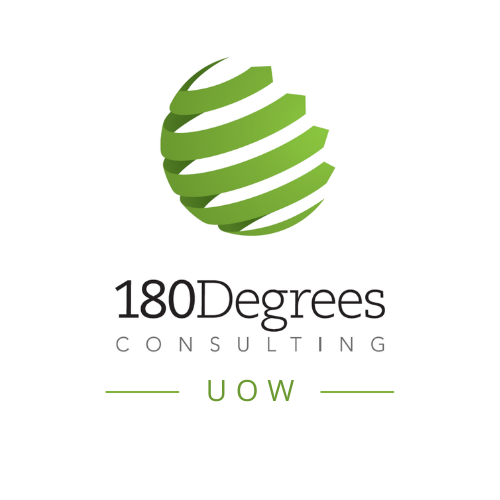 180 Degrees Consulting (180DC)

Welcome to 180 Degrees Consulting UOW 
180 Degrees Consulting is the world's largest student-led consulting service for not-for-profits and socially conscious organisations. We operate in over 30 countries and have branches at over 170 universities.
The benefit to joining 180 Degrees Consulting is:
You get to make a difference (have a social impact): Students get to make a difference by helping socially conscious organisations improve the way they operate and to overcome challenges they are facing. This is quite different from the vast majority of opportunities university students have to make a difference.
Get work experience: Students get to apply their university studies in a practical environment. You get to do wholesome volunteering in a professional environment. 
Receive professional training: 180 Degrees consultants receive training and mentoring from the world's leading consulting companies. 
Gain exposure to the consulting industry: If you're thinking of pursuing a career in consulting, this is for you! 
Meet and network with like-minded students around the world: Opportunities for in-person and online global meetings is what 180DC is about. Ever thought about doing an exchange? If your exchange university has a 180DC branch you can even volunteer there too!
Competitive process to be selected: You need to love what you study, be good at it and have a passion for social impact. At 180DC we love what we do and want the same from everyone that joins us. 
Manageable time commitment: University study always comes first. Everyone at 180DC is a university student too so we know that study and other commitments are just as important as your 180DC work. 180DCers are given manageable workloads that ensure they're not overburdened but still able to make an awesome social impact!
Find out more here: https://linktr.ee/180dcuow?utm_source=qr_code
Executive Details:  Maddison Creamer, Juan Nuesch, Jacqui Roncato, Ivana Vrcelj, Trish Nguyen, Beni Brett, Nicholas Tzortzis, and Julia Ruscigno.
Contact Email: wollongong@180dc.org